YOfru, the best of diary and fruit
Wednesday, December 21, 2016 1:44:00 PM Asia/Singapore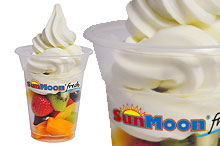 YOfru, the best of diary and fruit
YOfru is a wholesome food either eaten as a dessert or as a light meal.
YOfru has the best of both worlds, the diary and the fruit.
Yogurt is 98% fat free, a probiotics, Live and Active Cultures (Good Bacteria) which is good for our digestive and immune system. It also has all the nutrients and goodness found in milk such as calcium, vitamins B2, B12, Potassium,magnesium and more.
Freshly cut mix fruits has the fibre, vitamins and minerals that we need. With our busy life YOfru is health in a cup with good taste.
YOfru will only be avaliable in stores at the following location:
Asia Square Outlet, 8 Marina View, #02-12 Asia Square S018960
Posted in
News
By
Henry Ang